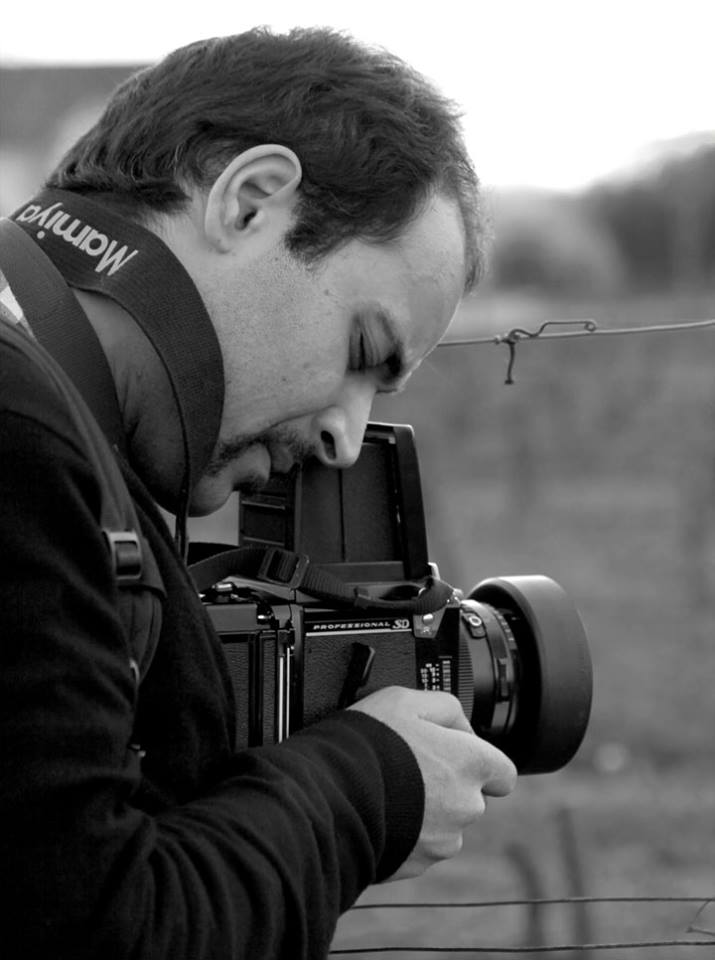 Abtin Sarabi was born in Tehran, Iran in 1984.
Filmmaker, Photographer & Visual Artist
After having studied oriental philosophy, painting and photography at the University of Art and Architecture University of Tehran. He graduated in 2009. Afterwards, he focused his practice on video art and cinema. In 1998, he began a personal photographic work leaning as much toward documentary and sociology as staged photography. In 2010 he studied at the Art school (Beaux_Arts) of Toulouse, France where he received his DNAP and DNSEP diplomas in 2014, throughout which he had directed seven short films, video art and several photographic series and installation. His early films are often refered to what we call 'poetic cinema' and remain evidence of his influence of Iranian director Kiarostami and Russian director Tarkovski particularly through his consistant research exploring the symbolic and mythologic dimension of cinema. Currently, Abtin Sarabi lives and works in Tehran, Iran. He finished the Le Fresnoy, Studio National des Arts Contemporains in Tourcoing in 2016 where the artist studies in a post graduate.
2016 : Diplôme avec Félicitation du Jury Ecole Le Fresnoy – Studio nationale des arts Contemporain
2014 : Diplôme DNSEP avec mention, Ecole supérieure des Beaux-Arts, Toulouse, France
2012 : Diplôme DNAP avec mention, Ecole supérieure des Beaux-Arts, Toulouse, France
2009 : Licence (diplôme de niveau bac+4) en Peinture à l'Université Azad, Faculté de l'Art et l'Architecture,
Téhéran, Iran
2007 : Formation en Philosophie de L'Art Oriental, Farhangestan Honar (l'Académie de l'Art), Téhéran, Iran
2003 : Certificat de fin du cycle préparatoire aux études Universitaires , Section : Art , Téhéran , Iran
2002 : Certificat de fin d'études secondaires ( Baccalauréat ) , Section : Photographie & Graphique, Téhéran, Iran
1998 – 2010 : Formation de musique traditionnelle persane auprès de deux grande maîtres : Mohammad Reza Lotfi
et Darioush Talai.
2010 – 2020 : Réalisation de courts métrages et de moyens métrages.
2003 – 2020 : Réalisation de différents projets photographie.
2018 : Performance musique, Groupe Voix d'Exils, Strasbourg , Septembre
2017 : Organisation d'une tournée de concerts de musique traditionnelle Iranienne ; 7 concerts entre Paris et
Louvain pour le groupe Panjgah – octobre 2017
2017 : performances de ces concerts en tant que musicien avec le groupe Panjgah dont 3 musiciens viennent d'Iran.
2007 – 2015 : concerts de musique traditionnelle iranienne en Iran et en France.
2011 – 2013 : Moniteur auprès d'étudiants au studio photo de l'école supérieure des beaux-arts de Toulouse
2012 : Assistant de réalisateur – « Deux compagnons des toits » réalisateur : Thomas Sipp
2005-2010: Photographie de Théâtre, Théâtre de ville (Téhéran, Iran)
2005 : Assistant de Directeur Artistique aux 4èmes Jeux Islamiques des Femmes (Téhéran, Iran)
2003-2007 : dessin des couvertures de livres (Téhéran, Iran)
• (ICI LE MONDE), Institut du Monde Arabe (IMA), Tourcoing, France, 2020
• (BACK / FORWARD), Espace Croisée – Centre d'Art Contemporain, Roubaix, France, 2018
• (INDICES D'ORIENT / LA MEMOIRE, LE TEMOIN ET LE SCRUTATEUR), Musée MUBA – Eugene
Leroy, Tourcoing, France, 2016
• (PANORAMA 18 ), Le Fresnoy – Studio national des arts Contemporain, Tourcoing, France, 2016
• (PANORAMA 17 – TECHNIQUEMENT DOUCE), Le Fresnoy – Studio national des arts Contemporain,
Tourcoing, France, 2015
• (COLLECTIF aux RENCONTRES DE CASTELFRANC), Castelfranc, France, 2015
• Performance, AJASO collective, l'Usine, Toulouse, France, 2014
• (Etat des lieux d'un DNAP ), Palais Des Arts, dans le cadre du Week-end de l'art
contemporain, Toulouse, France, 2012
• ( Picturediting #4 ), Palais Des Arts, Toulouse, France, 2012
• ( BRACONNAGES / PASSAGE(s) ), Médiathèque Des Abattoirs Musée d'art moderne et
contemporain , Toulouse , France , 2011
• ( MARDI 15 MARS ) , Palais Des Arts, Toulouse , France , 2011
• (Nominé au Concours de Photographie de Théâtre), la Maison des Artistes de
l'Iran , Téhéran, 2010
• (Peinture), Dey Gallery, Téhéran, Iran, 2009
• (Expo de Photographie), Esteghlal Hotel, Téhéran, Iran, 2008
• (Peinture, 100 Ouvrages- 50 Artists), Aghili Gallery, Téhéran, Iran, 2008
• (DAD ADAM , Photographie), Fakhredin Gallery, Téhéran, Iran, 2007
• (Peinture), Laleh Gallery, Téhéran, Iran, 2005
1. Poupée mécanique, Video art, France, 2 min30, 2010
2. Un autre jour, Short film fiction, France, 1 min, 2011
3. Le retour, Video art, France, 4 min, 2013
4. Illusion verte, Video art, Iran-France, 11 min, 2012
5. Une trop bruyante solitude, Video art, Portugal, 8 min 2013
6. Oasis dans l'instant, Video art, Iran, 7 min, 2014
7. Absolution, Short film fiction, Iran-France, 9min, 2016
8. Ahlé Hava (The People Of The Wind), Documentary, France, 59 min, 2015
9. Si l'homme, A temps, Avait ouvert ses yeux égarée, Video Installation Fiction, France, 35 min, 2016
10. Parcelles S7, Documentary-Experimental, Sénégal-France-Iran, 28 min, 2020
11. Alzeimer, Video Installation, France-Iran, 20 min, In production
12. Ali-Akbar SADEGHI, Documentary-Fiction, Feature film, Writing the script in progress
-PARCELLES S7 – (LAND LOT S7)
Première Mondial : Locarno Film Festival – Pardi di domani – compétition court métrage, Suisse, 2020
Première Espagne : ZINEBI 62nd Film Festival, Bilbao, Espagne, 2020
-AHLE HAVA – LES HABITANTS DU VENT (THE PEOPLE OF THE WIND)
Première Mondial : (35th Festival International JEAN ROUCH), Paris, France, 2016
(14th Tassvir Film Festival), Tehran, Iran, 2017
(15th RAI Film Festival), Bristol, UK, 2017
(4th Festival Mondes En Images), Cucuron, France, 2017
(31th Pärnu International Documentary and Anthropology Film Festival), Pärnu, Estonia, 2017
(14th GIEFF – The German International Ethnographic Film Festival), Koblenz, Germany, 2018)
-GREEN ILLUSION
(BACKUP-FESTIVAL FILM), Weimar, Allemagne, 2012
• Audience award pour le film Ahlé Hava – 4th Festival Mondes En Images, Cucuron, France, 2017
• « REGARDES CROISES #1 : Documentaire en création » Krysalide Diddusion avec le soutien de l'Institut
Français et de la MEL(Métropole Européen de Lille). Saint-Louis, Sénégal, 2018
2017 – Béla Tarr
2014 – Patrick Bailly Maître Grand
2013- Josephe Morder
2013 – Marie Losier
2012 – David Legrand
2011 – Eric Baudelair